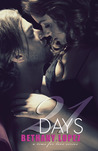 21 Days (Time for Love #2) by Bethany Lopez
My rating: ★★★✩ 3.5 of 5 stars
No longer working and having to find a place to live is the dilemma that TJ is facing. Determined to make it on his own with what he has in his pocket can only last him so long. Thankfully after her insistence Sasha, a successful realtor with enough money to live in luxury, offers him to stay at her place until he can get back on his feet. To avoid overstaying his welcome he sets himself to be out of her place in 21 days.
Already such an important part of my life, it was beginning to feel like adding sex to the mix had just intensified our relationship, and I begin to wonder whether or not I'd be willing to give up this new aspect of our relationship when our twenty-one days were over.
As TJ & Sasha gets comfortable with their living arrangement their attraction leads them to an exclusive friends with benefits arrangement while living under the same roof. The problem…is that a disguise on how they actually feel for each other? And when the truth comes out, will it be enough?
This 3.5 stars book in the series deals with relationship from a best friends standpoint. It had its moments that made me think of the situation between two people who have know each other since they were young and whether giving into their feelings is possible for more. #21days #timeforloveseries #bethanylopez